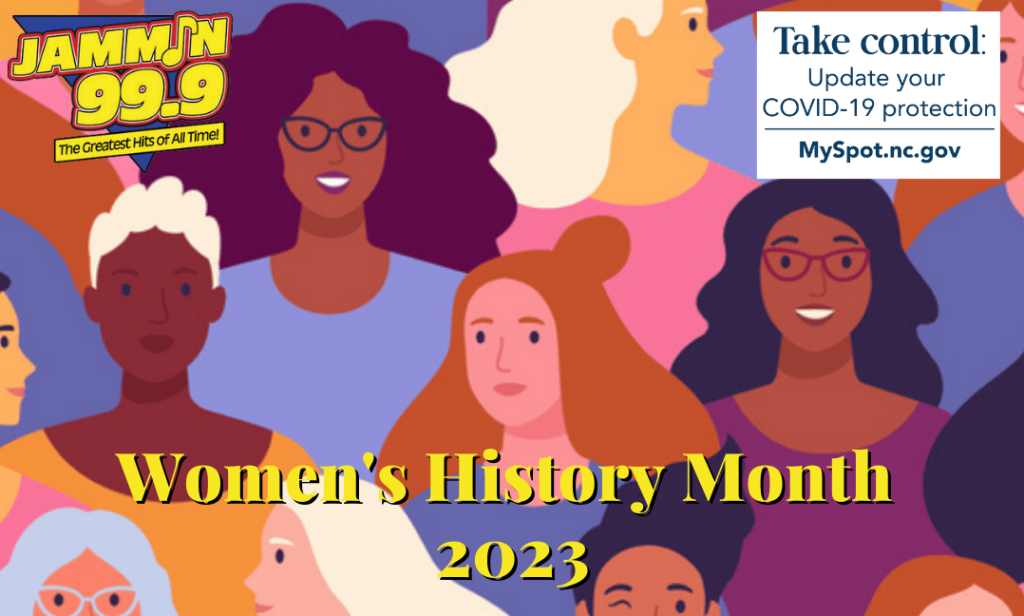 Jammin 99.9 Celebrates Women's History Month With These Prominent Figures, Dates, and Happenings From American History:
ALICE PAUL
Alice Paul was a Quaker suffragist who fought to secure women the right to vote and other feminist causes. The author of the Equal Rights Amendment, written in 1923 but still not ratified, died at the age of 92 in 1977 and remains one of the nation's most outspoken voices in the battle for equality. "There will never be a new world order until women are a part of it," she once said.
MARGRET MEAD
Cultural anthropologist and writer Margaret Meade (1901-1978) was born in Philadelphia and graduated from Barnard College. Appointed assistant curator of ethnology at the American Museum of Natural History in 1926, she embarked on two dozen trips to the South Pacific to study Indigenous cultures there. In her resulting books such as Coming of Age in Samoa (1928), Mead formulated her ideas about the powerful effects of the social convention on behavior, particularly in adolescent girls.
THE RIGHT TO VOTE
Women gained the right to vote in 1920 with the passage of the 19th Amendment. On Election Day in 1920, millions of American women exercised this right for the first time. But for almost 100 years, women (and men) had been fighting for women's suffrage: They had made speeches, signed petitions, marched in parades, and argued over and over again that women, like men, deserved all of the rights and responsibilities of citizenship. The leaders of this campaign—were women like Susan B. Anthony, Alice Paul, Elizabeth Cady Stanton, Lucy Stone, and Ida B.
ELIZABETH STATON
Elizabeth Cady Stanton was an abolitionist, human rights activist, and one of the first leaders of the women's rights movement. She came from a privileged background but decided early in life to fight for equal rights for women. Stanton worked closely with Susan B. Anthony—she was reportedly the brains behind Anthony's brawn—for over 50 years to win the women's right to vote. Still, her activism was not without controversy, which kept Stanton on the fringe of the women's suffrage movement later in life, though her efforts helped bring about the eventual passage of the 19th Amendment, which gave all citizens the right to vote.
1ST CONVENTION
July 19-20, 1848: In the first women's rights convention organized by women, the Seneca Falls Convention is held in New York, with 300 attendees, including organizers Elizabeth Cady Stanton and Lucretia Mott. Sixty-eight women and 32 men (including Frederick Douglass) sign the Declaration of Sentiments, which sparked decades of activism, eventually leading to the passage of the 19th Amendment granting women the right to vote.
MARGRET SANGER
October 16, 1916: Margaret Sanger opens the first birth control clinic in the United States. Located in Brownsville, Brooklyn, her clinic was deemed illegal under the "Comstock Laws" forbidding birth control, and the clinic was raided on October 26, 1916. When she had to close two additional times due to legal threats, she closed the clinic and eventually founded the American Birth Control League in 1921—the precursor to today's Planned Parenthood.
19TH AMENDMENT
Aug. 18, 1920: Ratification of the 19th Amendment to the U.S. Constitution is completed, declaring "the right of citizens of the United States to vote shall not be denied or abridged by the United States or by any State on account of sex." It is nicknamed "The Susan B. Anthony Amendment" in honor of her work on behalf of women's suffrage.
NOW
June 30, 1966: Betty Friedan, the author of 1963's The Feminine Mystique, helps found the National Organization for Women (NOW), using, as the organization now states, "grassroots activism to promote feminist ideals, lead societal change, eliminate discrimination, and achieve and protect the equal rights of all women and girls in all aspects of social, political, and economic life."
SALLY RIDE
When groundbreaking astronaut Sally Ride became the first American woman in space in 1983, she received plenty of congratulations. But one of the most meaningful nods to her accomplishment was not from a NASA official or a head of state; it was from an attorney named Linda Halpern. When she heard that Ride had made it into space, she wrote to her to thank her for fulfilling her childhood dream of space flight.
SANDRA DAY O'CONNOR
Sandra Day O'Connor (1930-) was an associate justice of the Supreme Court of the United States from 1981 to 2006 and was the first woman to serve on the Supreme Court. A moderate conservative, she was known for her dispassionate and meticulously researched opinions. For 24 years, Sandra Day O'Connor was a pioneering force on the Supreme Court and will always be remembered as acting as a sturdy guiding hand in the court's decisions during those years—and serving a swing vote in many important cases. In 2009 her accomplishments were acknowledged by President Obama who honored her with the Presidential Medal of Freedom.